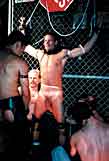 "A NIGHT AT THE CLUB"
Jake Hunter, Nick Sloan, Jef Hilo, Roger, & Dave North are in two extended scenes of public bondage, ball hitting, sensual CBT, painfull loads and group orgasms. Newcomer Heinrich, a muscular German whose big dick just gets harder when the electricity is turned up, is bound and tortured heavily enough to elicit deep screams and gobs of cum. A reprise of six hard loads ends the tape a bang!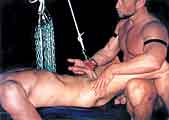 "PLEASURE TORTURE 2"
Michael Allen, a smooth hunk, and Thom Paris, a blond bodybuilder with a hairy chest, star in a sensual bondage video with lots of interesting equipment, beautiful men, and mouth-watering technique. Thom is one of those really sexy men whose masculinity is completely unforced and uncon- scious. When Thom saw Michael he couldn't wait to work on him—and Michael readily agreed. We caught the chemistry, and Adam Gay Video Guide calls this video, "… a must for all serious collectors of S&M…"

"PLEASURE TORTURE 3"
A hot mix of newcomers & studly Shotgun regulars. 5-man bondage, ball play, genitals tied and wired, and three progressively bigger "no hands" loads. Novice blindfolded, gagged, plank-bound in straightjacket—bodybuilders sweat to a cum-drenched finale. Starring new-comer Petros, the well hung Paul Sonner, Butch Dixon, Roger, and Shotgun discovery Steve Parker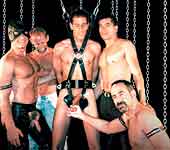 "SUSPENSION TENSION"
Two different dungeons and three custom suspension/bondage harnesses are used to immobilize Michael Evans and several other aroused victims. Once strung up, their nuts are tortured every which way, till the sheer pain and intensity force racking orgasms. Keith Reed comes three times in a minute and a half! We've never seen anything like it and show it to you from one camera with no editing so you can see it too! Some of the victims are tickled mercilessly after their loads. This video has imaginative bondage, muscular victims, and intense sensual pleasure torture, and the debut of muscular blond top, Thom Paris. One of our best sellers! Nominated as Best Alternative Video for 1996 in Adam awards

"NUTCRACKER'S BALL"
Roger directs a long pain endurance contest between bodybuilders Dave North and Rob Camma. The men keep up the pressure in a variety ofways to see who breaks first. The climax comes as Roger hangs chain after chain on their swollen nuts while the men stagger. Finally one of them breaks when an amazing 88 pounds is reached. "This is a hot flick, with lots of ball weights and other testicular punishment applied to two hot men…Get this film if you like ball torture…!" —the Leather Journal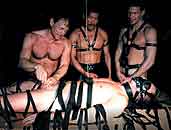 "CENTER OF ATTENTION"
In this video about TOTAL BONDAGE, Michail Allen is strapped to a custom bondage platform and worked over by Nick Sloan, Jake Hunter, and Dave North. Then Jeff Hilo and Rob Louis join them for a field trip and combined sperm splash off! Less violent than some other Shotgun tapes, the focus is on studs, leather, bondage, muscles, sensuality, and sperm!
Return to top of page | <<< PREVIOUS | NEXT >>> | Video Index | Shipping Information