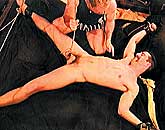 "IT ONLY HURTS WHEN I LAUGH"
Well, tickle torture fans, we got some live ones-two good looking, young, seriously ticklish bondage bottoms. This is sadistic, relentless, evil, tickle torture! Most tickling films don't go far enough, but you knew Shotgun would be different. We securely tied down these two handsome, built, incredibly ticklish men, and gave them more "ribbing" than they bargained for. No mercy! If the genital torture of other Shotgun tapes is too much for you and you want to see some intense tickle action, this is it!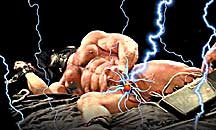 "HIGH VOLTAGE"
LOTS of MUSCLES, BONDAGE, ELECTRICTIY, & RAW COURAGE make for 7 HOT scenes of the most impressive and popular stars Shotgun has ever featured. These include several astonishing scenes with the infamous cattleprod, and a contest between a huge bodybuilder and Roger-but you'll have to watch the video to see who shoots first! The men on this tape are considerably more muscular and in shape than you usually see in any bondage video and the S&M is entirely real. If YOU like big, built men,heavily bound, gagged and worked over—and shooting monster loads—this is the tape for you!

"MUSCLEBUTT: RAISING CANE"
Roger puts competitive bodybuilder Nick Di Tomaso and muscular Jim Roberts through individual ass-whuppin' torture sessions and, finally, a pain contest. A variety of custom paddles, cat o' nines, floggers and canes are employed and, fortunately for Roger, the bondage equipment and 2000 lb. test ropes held. Massive muscle, straining, sweating and yelling—this video isn't for the faint of heart—but it will reward the intrepid viewer with a picture of tremendous raw courage—and miles of flying cum! "Musclebutt is a study of one of the basic principles of the SM poweer exchange: the top taking the bottom on a journey of discovery learning his pain limits & surpassing them." —International Leatherman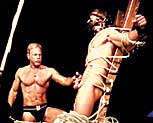 "LOW BLOWS AND BIG LOADS"
This is Intense S&M, with muscular, hung men & heavy bondage. First is buff Michael Allen, strapped to the St. Andrews' Cross, who says,"Hurt me!", as Roger prepares a weighted pendulum to swing into his groin. At a peak of agony and arousal Michael shoots. Jeff Hilo then spurts hard while cranking down on the sweating and panting Michael. Hunky and hung newcomer Sheridan appears, lashed to a suspended bondage table & his nuts and tits are crushed until he comes buckets. Then we have Rick White's terrific muscular, boyish body and his surprised turn-on to pain. Big Joe Stack then appears in a mutual electrical scene with Roger that produces three loads, heavy sweat and high sexual energy. Finally, there are 3 bonus scenes. First the ultra-hung Michael Evans jerks that monster tool while asking for repeated strikes to the nuts. Then, big Jim Roberts appears in 2 intense scenes, one featuring a custom vertical suspended bondage apparatus.

"BEGINNER'S LUCK, VOL. 1"
Some of the best times we've had here at the Shotgun Dungeons have been with beginners! These are beautiful young men, panting, sweating and struggling to take all the pain they can stand with convulsive orgasms and shooting loads all 'round. Auditions around here are brutal but, as you will see, they uncover some astonishing new young shooting stars! As a special bonus, we've included the audition footage of competive bodybuilder Nick di Tomaso. Of this video Adult Video News said, "It's amazing how much this man (Nick), with massive, muscular arms…can take. This video is TRANSFIXING!" If you like to see cocky young studs brought to their knees in wild ecstasy, this is the tape for you!
Return to top of page | <<< PREVIOUS | NEXT >>> | Video Index | Shipping Information