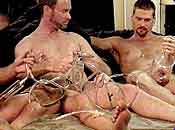 "VACUUMPUMPERSTUDS"
The sequel to Hard Vacuum with long build-up to intense & violent climax. Pumping action by experts going from sensual to fist-to-nuts extremes. Single, dual, and triple vacuum action with hard-core players Steve Parker, Butch Dixon, Reese Carter, & Roger.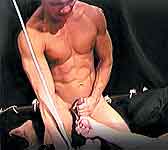 "WINNER TAKES ALL"
Bodybuilder Jake Hunter and tri-athlete Jeff Hilo challenge each other to a mutual wrestling and pain contest. The loser had to be the bottom for an extended testicle torture session. Filled with low blows, dirty tricks, and a mechanical hitting machine-this is excruciating mutual ball torture! These two beautiful, muscular men are both sadistic, yet extremely tough-what they do to each other's nuts must be seen to be believed!

"THE DEN"
Three muscular men, Jim Roberts, Jake Hunter, and Jeff Hilo, head north to the infamous "Den". First, an amazing slugging contest to the nuts which will make you jump and pull your legs together, then a violent mechanical hitting device, followed by a terrific fucking, and, voila!- outrageous spurts of cum! In the final scene everyone gangs up on Jeff ("the man with the abs") Hilo for an astonishing demonstration of toughness despite heavy jolts of electricity and yells!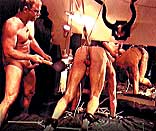 "HIGH PAIN TOLERANCE"
Bodybuilders are known for developing a high tolerance for pain in the gym. Tall and muscular Jim Roberts is featured in several scenes of intense, painful CBT and heavy, unusual bondage. He is suspended, pounded with a variety of clubs, fucked by the equally muscular Jake Hunter, pulled, squeezed, and tortured relentlessly. He shows an amazing ability to shoot huge loads past racking pain. This tape was shot over the course of a year and you can see how big Jim becomes, ever more muscular, defined, and tough.

"TORTURED LOADS"
Muscular and big dicked Michael Evans and Andrew Montano in an intricate & diabolical double bondage and pain contest controlled by Roger of SF. One of our heavier and hottest tapes, with Michael taking 36 lbs on his nuts and still squirting a huge pain driven orgasm.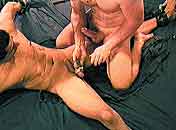 "SPURTFEST"
One of our "Wettest" tapes! A number of muscular men, two Latins, an Israeli, an Italian (What a body!), a Swede (What a huge load!), and even a beautifully built and defined young black man get tied and tortured in a variety of ways. Fast moving scenes and intense loads. " Top notch S&M. Shotgun continues to deliver extreme testicle torture." —Drummer

"LIGHTNING ROD"
Built, handsome and masculine Steve Parker makes his Shotgun debut doing what he likes best. A sterile metal sound about the size of a railroad spike is inserted deep into Steves' long thick dick. Even though tightly bound, Steve lunged upward, fucking his own dick with the spike. When the spike is electrified Steves' dick gets even bigger. As the current is turned up, this one-man sperm factory shoots the metal rod out in a splash of cum that flies all over the dungeon. Several scenes, complex bondage, and multiple loads, starring the soon-to-be-famous Steve Parker, Jeff Hilo, Roger, and muscular newcomer JT Phillips.

"CAUGHT IN MID-AIR!"
Intense Leather Suspension Bondage in the expanded Shotgun dungeons with Michael Allen, Jeff Hilo, Lars Olafson, Roger, and arresting newdiscoveries JT Phillips & Steve Parker. These muscular victims are strung up in custom leather suspension harnesses and tortured up to and way beyond orgasm. Michael Allen even takes repeated blows with boxing gloves to his exposed, tender groin! Heavy, creative bondage with a variety of muscular men, multiple loads, and edge play by real S&M players.
Return to top of page | <<< PREVIOUS | NEXT >>> | Video Index | Shipping Information