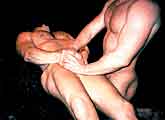 "TORTURE BY THE NUMBERS"
"They just don't make better ball torture than this." The Leather Journal "The best ball punching & abuse video I've ever seen.…the best video quality in direct video. If you like seeing a very muscular guy get his balls punchedand electro-zapped to the point where he screams himself to the highest falsetto you can imagine, you'll love this video. It's superb!"—Katharsis Magazine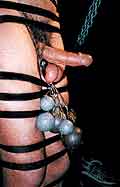 "KICK 'EM WHEN THEY'RE DOWN"
In this, one of our heavier tapes, Dieter Roll has two loads tortured out of him before Roger turns up the electricity and gets off. Tri-athlete Jeff Hilo and built Pete Magna then get the same treatment. "Technical quality is excellent and the editing is crisp. I've never seen videos of this kind done any better!" —Ball Club Quarterly

"SHOCK THERAPY"
Dave North and Pete Magnan are repeatedly shocked and slugged to racking orgasms-over a four day period. Listen to the description of Ball Club Quarterly, "…all action, non-stop, relentlessly applied pain, moving rapidly from one arousal and orgasm to another…The bottoms provide big loads and Roger spurts in response to the pleasure he's getting from applying pain to his victims." This tape is very rough and not for beginners!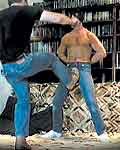 "KICKBALL 1"
You won't believe it Bodybuilder Pete Tanakis stands unrestrained and says, "Kick Čem again! Harder! HARDER!" Later, Roger said, "I couldn't kick any harder than that! Damn!" In both Kickball I and Kickball II Pete shows us the toughest nuts we've ever seen. Sure they swelled up to the size of lemons from Kickball I- and then Pete came back to do Kickball II! These are probably some of the most violent tapes ever shot-

"KICKBALL 2"
Beyond brutal! Please don't buy these tapes if the really heavy stuff bothers you! Both tapes feature lots of fast action and screaming orgasms. "Very hot men suffering consensual ball brutality that simply must be seen to be believed! If you're into heavy ball work, nobody does it better or harder!" —DADDY ZEUS, ZEUS Studios & Publications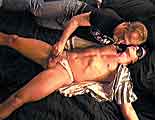 "ASSAULTED NUTS"
Michael Allen is slowly stripped to reveal beautiful musculature and definition, then the genital torture is gradually turned up way past what a newcomer should be able to take. His hard dick betrays his pain tolerance until finally his writhing body squirts copiously, as only pain can make it do. This video goes from sensual to very intense, and ends with a powerful, wrenching load slugged out of Dave North.

"BOUND & BEATEN"
The "Beaten" in the title refers to studs having their pain limits beaten to shreds! Tall, dark and handsome Andrew Montano endures an intensely painful weighted pulley and nut crushing scene and explodes in a huge gushing load. Roger then slugs vulnerable Andrew to reach his own "no-hands load". Next, Big, built Pete Magnan gets a load electrified out of him and then C-clamps are screwed deeply into his nuts-pain after orgasm is the most excrutiating! Xtra bonus scenes-one of our heaviest pain-filled tapes!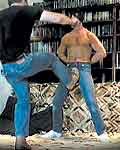 "HARD VACUUM (& CLOSE SHAVES)"
Handsome, built Andrew Montano and monster hung Michael Evans are shaved and subjected to a dangerously powerful medical vacuum device, C-clamps and electroshocks! "The screams are real. The pain endured isn't for the squeamish or faint of balls. Shotgun's torture gizmos would make South American dictators envious. All of the men abused in these videos are unusually striking physical specimens. Shotgun has managed to lure some very sexy hunks into the torture chamber." —HONCHO
Return to top of page | <<< PREVIOUS | NEXT >>> | Video Index | Shipping Information