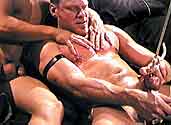 "POWER & PASSION"
We combined two hot huscular hunks, both tops and, oh yeah, both well hung, and what we got was serious competition, passion, intensity, imagination, and tenderness. In other words, Spontaneous Combustion! This is an exciting portrayal of two beautiful men who are delighted to get to know each other-and it shows! Pain, strength, courage, and lovemaking- this video has it all!

"RUPTURED"
Tri-athlete Jeff Hilo (What great abs!) gets a big load electrified out of him in a hard and fast torture session to start the tape, and holds on while Roger keeps up the pain for his own load. Then, bodybuilder Dave North endures an incredible 8-hour torture session, in which several loads are beaten, squeezed, shocked, and punched out of his profoundly tender testicles. Of course, we chose only the hottest scenes from those 8 hours to show you on this tape. Rough, relentless, and hot!

"CONSENTING ADULTS"
Tall, muscular Jim Roberts has an amazing pain tolerance! He and three other brave, built men giveus some of the heaviest and hottest testicle torture scenes ever filmed! Jim is tied spread eagle, face down and his nuts are brutally whacked Čtill Roger shoots spontaneously past the screams. The next victim endures 56 lbs (!!) on his nuts and still shoots! These and the other scenes are the hardest core CBT! 11 violent orgasms are reprised in a painful finale!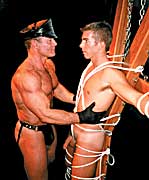 "MUSCLE DAD & HIS BOYS, VOL. I"
MUSLCES, LEATHER, BONDAGE, DOMINANCE, SENSUALITY—Two magnificently built leathermen as Master and boy—Juicy young Eric Michaels is so turned on by Rocky he actually shoots a "no-hands" load! "Muscledad has particularly erotic scenes…Probably the biggest turn-on for me was the scene in which Rocky puts a bit in Eric's mouth & fucks him cowboy-pony-style…This video, featuring a slew of bondage scenarios between a sexy stud- puppy boy/slave/show pony and a humpy, hairy daddy/Master/Top is far more erotic than any studio porn flick I've seen all year." —International Leatherman 2000 Adam Gay Guide gave "MuscleDad & His Boys, Vol I " its HIGHEST RATING for HOT SEX (+++)!!!

"A LEATHER DREAM"
A real-life leathercouple, Buck Laguna & Dirk Cherokee. This video opens with Buck falling asleep and dreaming of a gorgeous leatherman, Dirk. It is a magnificent sensual feast of kissing, foreskin worship, flogging, rimming, fucking, creative bondage & Serious Edge Play, with a splash of water sports! With the strength of their powerfull connection & passion and the stunning beauty of their bodies this video is simply…BREATHTAKING! ManNet.com rated it in their TOP 30 Videos of the Year and said, "…belongs in any video lovers collection! It is HIGHLY RECOMMENDED!!!" —ManNet.com "…Leather Dream exudes a tantalizing blend of intense SM and HEADY sexuality." —International Leatherman "It's a major thrill…serious SM play, sensous & loving. And GORGEOUS!" —Bay Area Reporter
Return to top of page | <<< PREVIOUS | NEXT >>> | Video Index | Shipping Information