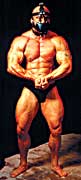 "BODYBUILDER BONDAGE & DOMINATION"
Big Nick DiTomaso is a mountain of muscle, the most massive bodybuilder ever tortured in heavy S&M videos. Here, Roger hangs a series of weights from Nick and when he finally goes down, sweating & panting, he has 20 lbs. hanging on his nuts. Next, Roger lays Nick on his muscular back and abuses his now-tender nuts. Then Nick is tied with his hands and his sore nuts to the ceiling. The squirming dance of Nick's incredible muscles is fascinating to watch as Roger pushes him beyond his limits & then shoots his load past the yells. Built young newcomer Sheridan is then tied, securely "spider- webbed' to the four poster. He asks for a gag and endures a ferocious nut pounding that gives him a racking orgasm and a huge load. He then hangs on for Roger's "no hands" shooter. The finale is the sexy Jim Roberts in 4 fast hard-core scenes. This display of CBT has Jim in heavy ball bashing, electrical torture and dick whipping, during which he shoots an amazing pain driven load. Fans of huge, hard muscle and heavy S&M—this is your tape!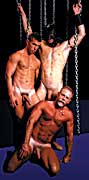 "SWITCH HITTER"
In this riveting video, Big Bad Top Brian Becke dominates a muscular young Erik Mikaels and then shows his own toughness by switching to hard-core bottom. Brian agreed to a heavy ass whuppin' by Roger if he, Brian, could work over the delicious Erik in return. Roger tied the stunningly well-built Brian into a vertical "no exit" stance, and let him have it. Every ounce of Brian's rippling musculature strains against the bondage as Roger lays into a brutal flogging, strapping, and whipping. Brian showed amazing grit and endurance—but the next weekend he relished dishing it out to Erik. Brian tied Erik securely and flogged his gorgeous young back, butt, and chest. Brian then poured the liquid pain from a large candle full of HOT WAX over Erik's muscular ass cheeks, plump balls, and virgin nipples. By the time Brian finally shot, Erik was climbing the walls after a long day of intense and varied S&M lovemaking. This is 100% real S&M featuring two men at the peak of youth, muscles, and determination.

"PLEASURE TORTURE I"
Roger uses candles, intensely secure bondage, and a vise, club, and electro- torture to get Keith Reed to, "…shoot the most impressive and expressive loads this side of Zak Spears…Hey, this ain't no art film…But it certainly is genius." —Adam Gay Video Guide

"GEYSER PARADE"
Some guys, when tortured, cum in huge, gut wrenching white geysers! In this video, stud after stud is straight-jacketed or tied spread eagle on the four poster and hit, pulled, squeezed, and shocked in the groin. Real agony results in REAL screams! Here's what Gold"N Stream had to say: "The film, color and sound quality are all better than good. The bodies range from very good to WOW!"…violent and voluminous orgasms…We give this film the highest rating!" We couldn't have said it better ourselves.

"TIED & TORTURED"
Beautiful Peter McNab hangs in there even after his pain-driven orgasm to get his top off. Then Michael Allen has a racking load electrified out of him, before Roger moves on to torture several more gut wrenching loads out of other studs. In the bonus scene a hunky newcomer delivers a stunning "no-hands load" as his pain becomes intolerable.
Return to top of page | NEXT >>> | Video Index | Shipping Information